---
---
Scroll down for descriptions and more information, or view the Google Calendar first to find dates and locations. 
---
September 23 & 24, 2017
Saturday 10-5 & Sunday 10-4
Admission: Adults $7, Children 12 and under FREE 
---
Final Bristol/ Warren Art Night (last Thursday of each month May-Sept). The spotlight is on Warren for September, so more events and artist studios are open in Warren on this Art Night. Studio 217 will continue to have Open Studio events monthly to promote the artist works and classes. Check our events and follow Studio 217 at Cutler Mills on social media!
 Thursday, September 28th, from 6-8 pm
See live demonstrations by the resident artists, artists work will be on display and for sale, and you can meet and talk to the artists!
Street parking and lot behind Cutler Mills Building
Takes place in Studio 217 within the Cutler Mills building and at many other stops!
Address: Studio 217, Cutler Mills, 30 Cutler Street, Warren, RI
---
A beloved autumn tradition for generations of families
Fun old-fashioned activities include the "Mabel Express" Barrel Train, Pony Rides, Mud Pit, Midway Games & Children's Tent
Crafters' Tent featuring more than 70 talented artisans and crafters
Local food trucks and vendors offer an array of appetizing selections
A fun lineup of bands set the festive mood in the Newport Storm Beer Garden
Bring cash for game tickets!
When: Saturday, September 30th & Sunday, October 1st, 2017
10:00 a.m. – 5:00 p.m.
Where: Norman Bird Sanctuary
            583 Third Beach Rd, Middletown, RI 02842
Admission: Adults: $6, Children: $3 (age 3-12); under 3 are free!
Tickets available at the gate the day of. Free parking on site.
---
Fall Craft Festival Columbus Day Weekend in Lincoln Village, Lincoln NH.
Hours: 10 am - 5 pm on Saturday & Sunday. Monday 9th 10 am - 4 pm.
Details: Free Admission, Rain or Shine and Friendly Pets on a leash are welcome.
Over 100 Juried Artisans will display and sell their traditional American made works; including Fine Jewelry, Pottery, Scarves, Puzzles, Calligraphy, Beaded Jewelry, Cutting Boards, Soy Candles, Sports Team Apparel, Children's Clothing, Fused Glass, Adirondack Style Furniture, Ornaments, Sheepskin Accessories, Leather, Floral Arrangements, Doll Clothes, Wreaths, Toys, Nature Photography, Wooden Signs, Aroma-therapy, Fleece, Paper Crafts, Photo Art, Pet Accessories, Decorative Painting, Engraving, Turned Wood, Folk Art, Baskets, Fine art, Glass Jewelry, Painted Stemware, Magnetic Jewelry, Original Painting and much more. In addition, come sample Specialty Foods such as Gourmet Oils, Fudge, Lemonade, BBQ sauces, Kettle Corn, Pastries, Salsas, Herbal Dips, Finishing Sauces, Maple Syrup, Pickles, Relish, Candies, Chocolate, Mulled Cider, Teas and more.
Village Shops & Town Green
GPS Address: 119 Main Street, Lincoln, NH 03251
---
More information coming soon!
---
*italicized with stars*= pending, possibly or TBA, Not yet planned.
(in parenthesees)= in search of events for the date, feel welcome to share any good festivals!
Bolded= accepted and planned 
September
PVMA Old Deerfield Craft Fairs Fall Arts & Crafts Festival, Deerfield MA, Sat. 23rd & Sun. 24th
Norman Bird Sanctuary's Harvest Fair, Sept. 30th & Oct 1st
October
Norman Bird Sanctuary's Harvest Fair, Sept. 30th & Oct 1st
Castleberry Fair's Lincoln NH Fall Artisan Festival, Lincoln NH, Sat. 7th-Mon. 9th
Newton MA Harvest Fair, Sat. Oct 15th
Warren Walkabout, Warren RI, Sun. Oct 22
St Andrews Autumn Artisan Craft Fair, Barrington RI, Sat. Oct 28th
November  
The Pennefield School Cornucopia Sale, Middletown RI, Fri. & Sat. Nov 3- 4th
Dighton Arts Festival, Dighton MA, Sun. Nov 5th
All Saints Episcopal Church Bazaar, Attleboro MA, Sat. Nov 11th
Old Deerfield Craft Holiday Fair, Sat. & Sun. Nov 18-19th
 The Hotel Viking Holiday Fine Craft Show, Newport RI, Sun. Nov 26th
December
*Save The Bay Fundraiser, Thurs. Nov 30th*
*St. Luke's Girls' Night Out, Fri. Dec 1st*
*Newton MA Holiday Crafts Festival, Sat. Dec 2nd*
*Start at the Station, Worcester, Sun. Dec 3rd*
*JAC Holiday Arts Market, Fri. Dec 8th*
*JAC Holiday Arts Market, Sat. Dec 9th*
*In The Nick of Time Art Sale at Coffee Depot, Warren RI, Sun. Dec 17th*
--- Check back soon for more events! ---
---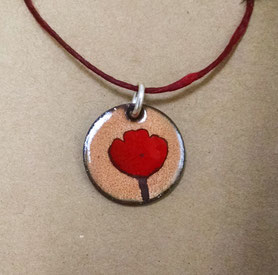 Only Available at Festivals: New Jewelry Line: Champleve Enamels
Champleve Enamels are made through a process of cutting shapes out of the copper disks, and filling the recess with colored glass. They are finished with a layer of clear glass fused over the copper. Finished with a sterling silver bail on a colorful and adjustable (sliding knot) wax-coated cotton cord.  It can be adjusted to be choker length 15" or very long 30". 
Coming to the website shop soon-- currently available at Events!
Price range: Small round- $32, Small teardrop/ cushion- $38,  Large round/ Large teardrop $46.
---